DEAR SMALL BUSINESS OWNER,
My name is Joel House and I'm the founder & Director here at Joel House Search Media.
We're very different to other agencies that offer Brisbane SEO.
Unlike other big agencies where your crucial SEO tasks get passed off to some 19yr old uni-intern, who hardly
knows how businesses work, I'll be personally working with you to grow your google traffic.
You'll be getting my 9 years of digital marketing experience personally focussed on getting your business to the
top of Google so you can enjoy growth of up to 295.3% year on year like my other clients.
Your business is important to you. You've poured years of your life, blood sweat and tears into building it, so I find
it offensive that other companies think that is only worth the attention of a junior or intern. I've worked in big
agencies & I saw the level of care that they had for clients like you, which is why I left – because you deserve more.
And if this isn't enough – Ask yourself – How did you find me? Chances are you searched for 'SEO Brisbane'. This
is by far one of the most difficult keywords to rank for as every SEO in the region is fighting tooth and nail for it.
It's proof that whoever ranks at the top is the best in the industry.
Now if you have searched in Brisbane SEO, Sunshine Coast, Gold Coast or even as far as Canberra then you'll have
found me at the top of the page, leading the pack. Yes – I've beaten every other agency at their own game, in their
own back yard in Brisbane. I've beaten the juniors and interns that they put on your work on clients like you, and I've even
beaten their managers who oversee their 'internal SEO'.
So just imagine how your sales will grow if you let me loose on your site? How would your life be if you had 2, 3, or 4 times more leads coming through each and every week? Needless to say – it will improve every area of your life dramatically.
I must warn you though – we can't take everyone.
Because my clients get my personal attention to rapidly grow their traffic and revenue, I can only work with a select handful of clients. I can only work with one client in each industry in each region. I can only take on 3 new clients a month. And I can only work with established businesses who have a desire to grow and who know that SEO is for them.
Since I rank in nearly every major city in Australia, I get a lot of business owners to my website every day for our Brisbane SEO services, so this isn't some false urgency, but my client list fills fast.
To get started today and to apply for a spot on my client roster, simply fill out the Discovery Form at the link below.
To Your Success,
Joel House
Founder & Brisbane SEO Expert
This Isn't Theory
Because We Have Proven SEO Brisbane Results
"The Best Business Decision
We've Ever Made"
10 x #1
RANKINGS
25 X TOP 3
RANKINGS
1,049.2% INCREASE
IN ORGANIC TRAFFIC
INDUSTRY:
PRESSURE CLEANING
TIME FRAME:
8 MONTHS

"We're Now Beating The Dealerships
At Their Own Game"
13 x #1
RANKINGS
31 X TOP 3
RANKINGS
702.7% INCREASE
IN ORGANIC TRAFFIC
INDUSTRY:
MECHANIC
TIME FRAME:
12 MONTHS
"Constant Phone Calls
& Leads"
10 For Panel Beater
+ City
629% Increase
IN ORGANIC TRAFFIC
INDUSTRY:
Panel Beater
TIME FRAME:
12 MONTHS
"From Nowhere To
#2 In 10 Weeks"
#2 FOR TEST & TAG
+ CITY
PAGE 1 FOR
3 CITIES
INDUSTRY:
ELECTRICAL SERVICES
TIME FRAME:
10 WEEKS
"Turned Our Business Around
In 8 Weeks"
6 x #1
RANKINGS
442% INCREASE
IN ORGANIC TRAFFIC
INDUSTRY:
Wholesaler/Distributor
TIME FRAME:
7 MONTHS

"Consistent Growth"
91 x #1
RANKINGS
Page 1 In Every
Capital City
INDUSTRY:
Accommodation
TIME FRAME:
6 MONTHS
"From Neglected
To Prospering"
From #14 to #4
in 4 Months
108.4% INCREASE
IN ORGANIC TRAFFIC
INDUSTRY:
Construction
TIME FRAME:
4 MONTHS
"We Need More Staff
To Handle The Demand"
6 x #1
RANKINGS
25 X TOP 3
RANKINGS
#3 For
"Doctor + City"
568% INCREASE
IN ORGANIC TRAFFIC
INDUSTRY:
Medical Clinic
TIME FRAME:
8 MONTHS

"Joel Is Hands Down
The Best SEO"
16 x Top 5 Rankings
Against National Companies
713% INCREASE
IN ORGANIC TRAFFIC
INDUSTRY:
Print & Graphics
TIME FRAME:
17 MONTHS

"Results Are Nothing
Short Of Amazing"
#1 For Biggest Keyword
in 3 Months
1,312.2% INCREASE
IN ORGANIC TRAFFIC
TESTIMONIALS FROM REAL BUSINESS OWNERS
"Joel House Search Media is hands down the best SEO Agency in Brisbane that I've ever worked with. Over the last few year's we've hired numerous companies and no one has ever been able to get us results. I was hesitant at first to hire Joel, but now I couldn't be happier with the decision."
In only 4 months we had climbed from 30th to 4th position for a very competitive keyword.
Their approach to SEO is very unique, it makes sense, and it gets outstanding results.
Within the first month or so of working with Joel, we had better results than we'd had with any other company in over a year. When we first started Joel sat down with us and showed us issues with the website we didn't even know where there, and better yet, is that he showed us how he was going to fix them.
We want to be #1 on Google ourselves, so who better than the guy who is #1 on Google.
I saw down and talked to my wife the other day, and the best thing we've ever done for the business was get Joel on-board.
After 8-months we are consistently sitting #1 for some of our keywords, and the others are moving fast in that direction. This has considerably increased enquiry levels and sales conversions.
If you're after delivery and results from your SEO I highly recommend Joel. Great work mate!
We have tried several SEO's. None of them cared, but they were happy to take our $$$$.
A mate told me to look for an SEO on Google and to choose one that did not use Google advertising. After 6 weeks there you were, time and again always page 1. That's the bloke for me.
We have now been with you just on 8 weeks for our SEO and have experienced a great turn around in business.
Thanks Joel, really appreciate your efforts on our behalf.
OUR RESULTS SPEAK FOR THEMSELVES
SEO BRISBANE
Here are just a few of the many major cities we rank in. If we can beat our competition,
all of who are 'professional SEOs', just imagine what we can do for your business?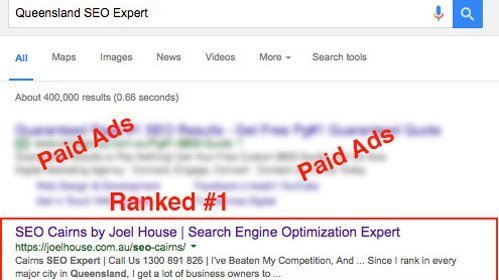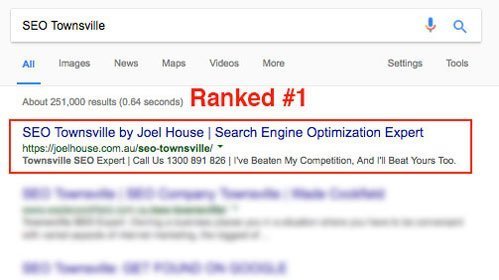 WORLD CLASS SEO SERVICES
At Joel House Search Media Brisbane, we drive more customers and traffic to your business than any other online source. Our proven strategy will dominate your competition by taking over the first page of Google.
KICK START YOUR
BUSINESS IN 2018
---
Do You Want Your Phone Ringing Off The Hook?
Do You Want A Fresh Stream Of Inquiries In Your Inbox Each Morning?
Do You Want A SEO Service That Has Been Proven To Work?
Do You Want An SEO Service When You Know The Guaranteed End Date?
Do You Want To Work With An SEO Expert Who Lives, Breathes And Sleeps SEO And Knows EXACTLY What It Takes To Get Results?
WE HELP YOU
DOMINATE YOUR MARKET
---
Increase Your Revenue
Our SEO open's the flood gates of qualified traffic to your website from Brisbane so you can grow your revenue.
Increase Exposure
Give your business the exposure it deserves by dominating the rankings in Google. We make all roads on Google lead to you.

Get New Customers
Our services brings more customers to your website, product or service than any other form of online advertising.
Your Partners
Every morning like clockwork we send you a report with your rankings update to keep you informed and up to date with any changes to your rankings. No one else offers this level of transparency.

Proven SEO Systems
Every SEO Brisbane technique that will be done on your site is 100% safe. No cutting corners and No blackhat techniques. Every Brisbane SEO technique that is used on your site we have tested extensively on our R&D test sites to ensure its effectiveness and safety. I've even used the exact same strategy you get, to rank this site.
We're Partners
We are your partner in your Brisbane SEO growth. So whether you have a question, problem to resolve or simply need an update we are here for you. We aren't a faceless organisation where you get passed around. You'll get to know the team.
Cutting Edge Experts
We belong to advanced and exclusive mastermind groups that include the worlds best SEOs. We discuss strategy, whats working right now and what to move away from. We make it a priority to stay on the cutting edge of our industry and you (and your bank balance) benefit from that knowledge.

Worry Free Contracts
Month-to-month contracts. If your Brisbane SEO agency isn't performing, then why should you be forced paying for a service that doesn't work? Your free to finish your service at any time – But once the growth starts coming you won't want to ever leave!
We Specialise in just SEO Services
---
" I fear not the man who has practiced 10,000 kicks once,
but I fear the man who has practiced one kick 10,000 times"
BRUCE LEE • QUOTE OF THE DAY
HOW SEO WORKS IN BRISBANE
If you're reading this then chances are you were looking for SEO in Brisbane, and you came across this page by the power of Search Engine Optimisation. Not only is Brisbane SEO one of the most competitive terms in South East Queensland, but every SEO in the area is also competing for this very term.
So if I can beat them all and have you land on this Brisbane targetted page, just imagine what I can do for your business?
Imagine being able to out-rank and dominate your competition. To have your phone ring whenever someone looks for your services online in Brisbane, not your competitors. This kind of automated lead system truly turns your business into a revenue-generating machine.
As you can see, it's no wonder that this is the best Brisbane SEO firm around, period. We've always prided ourselves on being more than just a search engine optimization firm. We are a search engine marketing firm.
Let us give you the very same blueprints that we've used to rank countless other businesses. Whether you are looking for local SEO Brisbane, or you are looking to overtake the online eCommerce space worldwide, we can help you achieve it.
HOW TO GET STARTED IN BRISBANE
Begin by just filling out our discovery form and claiming your free consultation. During this 45-60 minute phone consultation we will map our your future revenue plan and how to secure your website positioning online for years to come with Brisbane search engine optimization.
We are one of only a few companies in Brisbane that know our craft well enough. What do you have to lose?
Call us today and discover how we can help your business grow for years to come.
We look forward to hearing from you very soon.
Joel House
Founder & Director
Joel House Search Media Brisbane
PS: Here is some more information to help you with your decision to invest in SEO.
WHY SEO?
Search Engine Optimisation (SEO) is one of the biggest factors that determines which websites you see on page 1 of Google in Brisbane. There is often jokes that page 2 of Google is the best place to hide a fugitive because of how little traffic it gets, so why would you want your business in the same location?
Not being found in Google is costing your company money every day, as, without it, you're essentially handing your competition money, and no business can afford to do that!
To attain higher rankings in search engines in Brisbane, your website needs to be well optimised. Well, optimized sites will lead to the popularity of your content and products, which means direct revenue for your business.
However to get this exposure you need a true professional optimises or consultant who understands how the whole process works specifically for Brisbane based businesses.
BENEFITS OF SEO
There are numerous benefits of hiring a Brisbane SEO expert to optimise and help grow your online presence.
A real SEO expert will save you a lot of time. With Google's algorithms changing on a weekly basis is essential that you are working with someone who is up to date on what is going on at all times in the local Brisbane market, as your business and revenue rely on the results from your SEO Brisbane!
OUR SEO PROCESS FOR BRISBANE
Our SEO process for Brisbane has been developed by working with hundreds of clients across the world in almost every industry imaginable.
First we cover your keyword research and come up with keywords that fully support your page content and services while also driving you maximum revenue. We even look at the keywords your competition is using and structure a plan for how you can take their rankings directly.
The result is your website being more appealing to both your customers and Google alike.
Next, we use various strategies to them push your site up to Googles first page. As a leading seo consultant brisbane we've carefully refined this process.
Often referred to as 'link building', our off-page SEO Brisbane services cover far more than what other firms traditionally use. They are cutting edge and 100% safe, proven techniques that we developed in association with the world's leading Brisbane SEO community.
SEARCH ENGINE OPTIMISATION IN BRISBANE IS COST EFFECTIVE
Unlike many other forms of digital marketing, SEO Brisbane is extremely cost effective. Plus SEO builds a long term asset in your businesses website and helps you get a stronghold in Brisbane.
When you compare this to the effects of other forms of digital marketing in Brisbane, you'll soon find that they can blow your budget quickly, and give little or no results.
Our SEO Brisbane services are designed to give you the biggest ROI possible, so we keep our fee's affordable. We aren't the cheapest around. However, we generate the best ROI in the industry here in Brisbane.
GETTING STARTED WITH YOUR SEO CONSULTANT BRISBANE
If you'd like to catch up for a chat and discover what our Search Engine Optimisation Brisbane services can do for your business, then simply click the button below and fill out our discovery form.
This form will simply ask for a few, non-intrusive questions that will then allow us to properly analyse your website's Brisbane SEO and provide you with a complete website analysis video within 24-48 hours.
Our Proven SEO Process – 30,000ft View For Brisbane
Although every SEO campaign and every website is slightly different and unique in its own way, success leaves clues, and we spent a lot of time studying those clues.
Over the last 3 years we have carefully tracked, recorded and documented every SEO Brisbane campaign that we have run for ourselves, and for every client. The result – we have reverse engineered what worked perfectly, what had some hiccups, and what we needed to take back to the drawing-board to make successful.
Today, we have a very clear, 168 step internal process which we follow for each and every client which enables us to get the predictable SEO results that our clients have come to love.
Although we won't ever reveal what the 168 steps are exactly (I mean, you don't expect Coca-Cola or KFC to reveal their formulas), below I have broken it down into 5 main sections to give you an idea of the sort of work we will be performing to ensure your website gets through to the top of the search results.
Your Website foundation
The very first thing I look at when working with a new client is how their website is set up from an SEO perspective. Are the Meta Titles correctly set for the keywords you want to target, does your page load quickly, and can Google find its way around your code efficiently?
These, along with all of the best practises that you'll see in big lists provided by other agencies, form the foundation of your website 'on-page SEO'
Building A Wider Base
Where the first step is quite 'generic', here is where we start to differ from the ordinary SEO in Brisbane.
The second step is to compare your website's SEO, directly to those who are ranked in the top 3 of Google – and make sure your base is wider!
You see, most SEO agencies just do what is 'best practise' and never look at what is needed to compete with your competition. We crunch 500 points of data, across the top 100 websites in google, to find out exactly where your strengths, weaknesses and similarities are.
We then use high-tech math to identify the area's that we need to further improve on your website in order to compete. Once your 'base' of on-page SEO is wider than your competitors, we move through to the third step.
The Big SEO Building Blocks
Google loves links, that is a known fact. This is why our 'building blocks' involve ensuring your website is found in all the right locations for your industry, as well as where Google expects local businesses to be found such as TrueLocal, Facebook, Yellow Pages & LinkedIn.
What we do here, is what most agencies call their 'link building' – for us, it's the very beginning!
Reverse Engineering Competitors SEO
The fourth step is to reverse engineer the exact steps that your competitors have taken, and the exact link power that they have acquired in order to get to the top of Google. By using advanced SEO tools we have the power to take away the 'head start' that your competitors have, and to level the playing field.
Building The Tallest SEO Tower
The last and final step in your search engine optimization Brisbane is to build you the tallest tower. What do I mean? Simple.
Although SEO isn't overnight, just like trying to build the tallest tower, if we build quicker, and for longer than your competitors, with time you will catch them, and pass them. This is exactly the same as what we do with your SEO.
We continue to build, build and build, at a rate that is quicker than your competitors (as we discovered in part 4), and depending on your budget, will depend on how quickly we catch, and outrank them.
Obviously, this is the '30,000ft' overview of what we do for your SEO campaign, but hopefully it helps to put your mind at ease with exactly what we'll be doing for you as your seo company. It is essential that you stay safe online, so we recommend that all businesses refer to the StaySmartOnline website issued by the Australian Government when considering SEO Brisbane.